IV Kartingowe Mistrzostwa Firm: Ruszają zapisy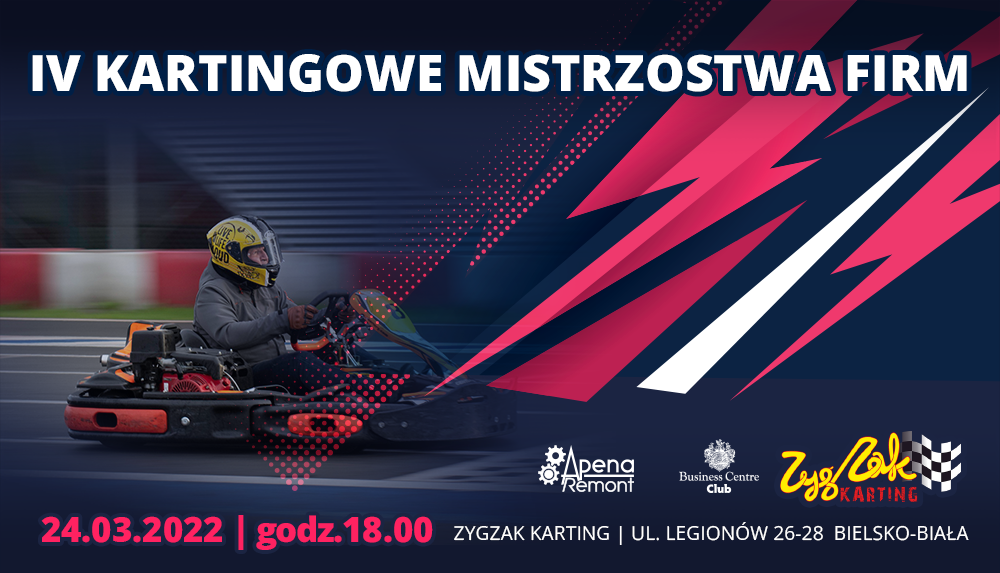 Już w marcu tego roku odbędą się IV Kartingowe Mistrzostwa Firm w Bielsku-Białej. Patronem imprezy jest bielska loża Business Centre Club. Organizatorem przedsięwzięcia jest agencja marketingowa MSP Group.
Po udanych poprzednich trzech odsłonach Kartingowych Mistrzostw Firm nadszedł czas na kolejną 4. edycję. Ta odbędzie się 24 marca 2022 roku o godzinie 18:00. Miejscem zmagań zawodników będzie ZygZak Karting, mieszczący się przy ul. Legionów 26 w Bielsku-Białej. IV Kartingowe Mistrzostwa przeznaczone są tylko dla firm oraz instytucji. Partnerem wydarzenia jest firma Apena Remont. Mistrzostwa odbywają się pod specjalnym patronatem bielskiej loży Business Centre Club.
– Z doświadczenia wiemy, że karting to świetny sposób, aby efektywnie zaangażować pracowników do wspólnego spędzenia czasu także poza firmą. Chcemy łączyć biznes ze sportem, także poprzez wyścigi kartingowe, które dają także możliwość nawiązania nowych kontaktów. Walka, duży poziom adrenaliny, rywalizacja, a to wszystko w duchu przyjaznej atmosfery – z niecierpliwością czekamy na kolejną odsłonę Kartingowych Mistrzostw Firm – mówią przedstawiciele firmy MSP Group, która jest organizatorem imprezy.
Oprócz świetnej sposobności na biznesowe spotkania w luźnej atmosferze, dla uczestników wydarzenia przewidziany jest także poczęstunek oraz nagrody dla najlepszych zawodników. Impreza zostanie "dopieszczona" od strony medialnej. Nie zabraknie wywiadów, fotogalerii oraz materiału wideo z wyścigu.
Zmagania przeznaczone są tylko dla firm. Zachęcamy do kontaktu – e-mailowo: oraz telefonicznie: 600-241-200.
Pełna oferta dostępna jest TUTAJ