Social Media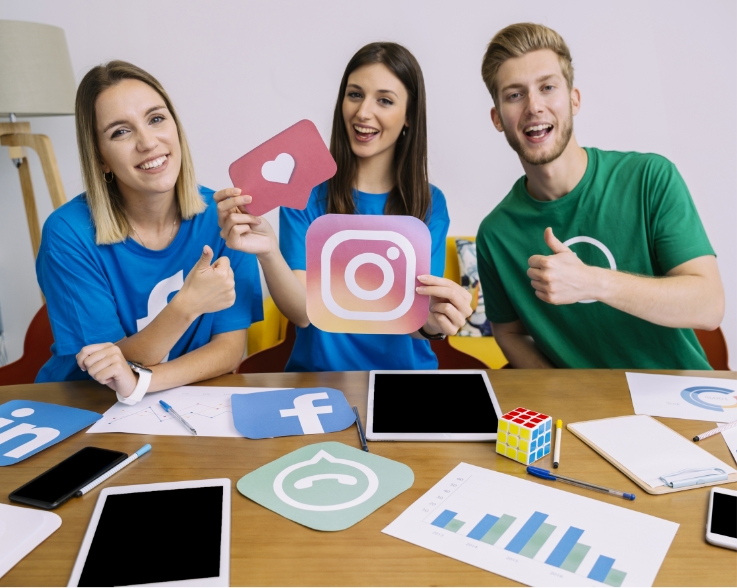 Wejdź w świat social mediów
Social media to nic innego jak szybka wymiana informacji oraz gromadzenie użytkowników w jednym miejscu. Pokazanie działań w oryginalny sposób, tworzenie strategii, plany publikacji, działania PR, grafiki, relacje video i zdjęcia, kampanie reklamowe, dedykowane treści. Wyróżnienie w Internecie jest ważne w dzisiejszych czasach. Większość klientów posiada konto na Facebooku, a więc sposobność nieszablonowego pokazania usług, utrzymanie stałych relacji, a także tworzenie personalizowanych reklam to jest coś dla Ciebie. Naszym celem jest dbanie o pozytywny wizerunek, podnoszenie znajomości marki oraz zainteresowanie Twoją firmą. Przekazanie opieki nad mediami społecznościowymi do firmy zewnętrznej to duży atut, nie musisz się martwić o wstawianie postów z bieżących wydarzeń, ciekawostek związanych z firmą, produktem, bądź informacjami z życia codziennego.

Usługi
Obsługa firm w mediach społecznościowych
Zajmujemy się obsługą social mediów, dla nas obsługa Facebook, Twitter czy Instagram to zawsze dobre wzywanie.
Wydarzenia firmowe
Tworzymy kalendarz publikacji, dopasujemy ciekawe pomysły czy grafiki do poszczególnych postów.
Wydarzenia sportowe
Komentarze do aktualnych wydarzeń związanych z klubem lub marką.
Zalety
Utrzymywanie ciągłej komunikacji
Dbamy o pozytywny wizerunek utrzymując relacje z użytkownikami.
Konkursy
Tworzenie promocji oraz konkursów do przyciągnięcia większej ilości odbiorców.
Moderowanie rozmów
Tworzenie konwersacji, tak aby w jak najszybszy sposób odpowiadać na zadawane pytania.
Kreujemy nowe pomysły
Tworzymy nowe inicjatywy dla sukcesywnego podnoszenia rozpoznawalności.